Relaxation, views, hiking and wine - Enjoy your vacation with us at the Moselle river - Open all year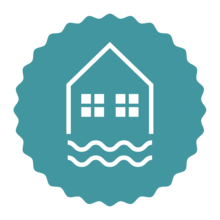 Miriam's Mosel holiday apartments -
Holidays with stunning views in Alf, Zell and Ediger-Eller
Escape from everyday life and relax in one of our holiday apartments or holiday homes on the Moselle!
Enjoy your morning coffee on the balcony with a view of the Moselle or Calmont, Europe's steepest vineyard. The Calmont region and the Zeller Land offer a variety of activities for young and old such as hiking, cycling, mountain biking, canoe tours, paragliding, boat trips or a wine tasting at a vintner. Enjoy the regional cuisine in the evening or grill yourself on our own Moselle meadow and let the day end comfortably with a glass of Moselle Riesling.
We look forward to hosting you!
Currently: No down payment and simplified cancellation conditions

Due to the current situation, we have extended our free cancellation period for you.
Booked stays can be canceled free of charge up to 14 days before the date of arrival.
A down payment of your reservation is not necessary until it is officially determined when tourist trips are allowed again.
If new travel restrictions are imposed and your vacation falls during this period in which tourist travel is prohibited, we will of course refund your money, issue you a voucher or, with your consent, postpone the booking to another date of your choice.
We also offer an optional travel insurance.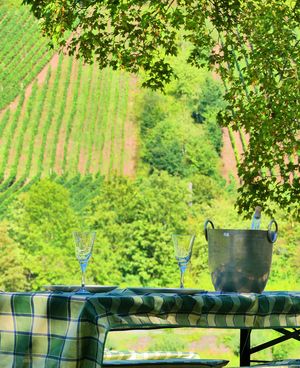 Would you like to spend your vacation in Germany in a beautiful holiday apartment on the Moselle? Do you value a nice atmosphere and modern accommodation? Then you have come to the right place at Miriam's Mosel holiday apartments.
You have the choice between two fully equipped holiday homes in Ediger-Eller and in the heart of the old town of Zell and two modern holiday apartments with a beautiful view of the Moselle in Alf, which are right next to each other and can also be booked together for larger groups or families.
Our own garden in Alf, directly on the Moselle, is also available for our guests from all accommodations. Relax with a view of the Moselle, relax in our garden swing, read a good book in a deck chair with a view of the vineyards or have a barbecue with your family and enjoy a glass of Moselle wine.
You can safely park your motorcycles and bicycles with us and charge the e-bike batteries. Our holiday accommodations are ideal starting points for interesting excursions, sporting activities or wine tastings.
Arrive and the holiday begins immediately:
All holiday apartments and holiday homes are fully equipped, modern and furnished with attention to detail. You do not need to worry about what you have to bring with you, because with us you will find everything that makes your stay nice and pleasant. In addition to bed linen and towels for everyone, you will find coffee machines, coffee and tea, oil and spices, soda makers, hair dryers and irons, games and books, WiFi and TV, Netflix and Amazon Prime and much more.
We are available for your questions and requests before and during your stay.
We would be delighted if you would honor us on the beautiful Moselle and if we could help ensure that you have a wonderful and relaxing holiday.
Miriam Giardini-Molzahn and Victor Giardini
Our guests are at the center of our efforts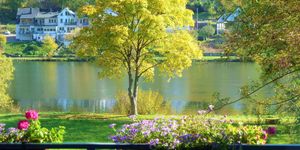 Haus Moselwiese - 2 Holiday Apartments in Alf